applications
---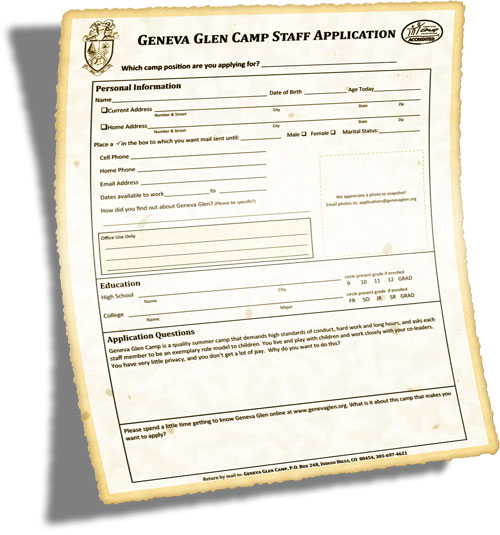 Thank you for your interest in Geneva Glen Camp! Select an option below to apply online.
We have an open hiring process, with no hard deadline, and will hire until we are fully staffed. Many of our hiring decisions for the coming summer cannot be reached until we learn the availability of our returning staff members.We will acknowledge receipt of your application. If you have any questions or trouble with your application, please feel free to contact us at applications@genevaglen.org. Thank you, and we look forward to receiving your application.
We have filled all of our Crew and Nurse jobs and are no longer accepting applications for those positions.
Please select an option:
Which application should I use?
Cabin Counselor Application: All new applicants including:

Senior Counselors
Junior Counselors
Counselors in Training
Former Crew members who have not been counselors
Activity Director Applicants
Wrangler Applicants

Crew Application: Dish Crew or Work Crew Applicants.
Camp Nurse Application: RN's Only.
Reapplication: Returning counselors from LAST SUMMER ONLY! Past Crew members must use the general application.