Camp Programming
Geneva Glen offers campers a wide range of daily activities. Depending on their age, campers participate in activities in a group or chooses their own schedule according to particular interests. Junior and Middler campers, ages 6 through 12, attend activities as a "sister cabin" and "brother dorm."
The multi-faceted program at camp includes activities geared to the physical, mental and spiritual self: hiking, exploring, horseback riding, swimming, archery, climbing and challenge courses, music, drama, arts and crafts, pageantry and ceremony.
"Geneva Glen excels in creative programming"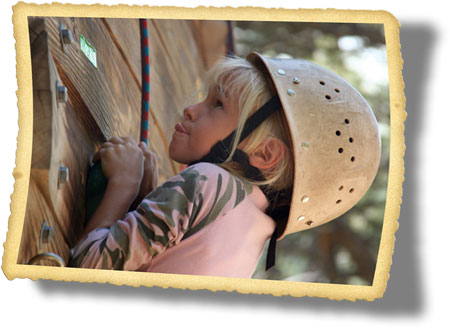 Alchemy: Our own brand of creative environmental program that teaches campers to value the natural world around them.
Archery: Become Robin Hood or Katniss in our three beautifully wooded archery lanes.
Backwoods BBs (for Juniors and Middlers): Decorate your target and then hit the bullseye to win awards.
Barn: Western arena and trail riding for all ability levels. Equine care and riding instruction for more experienced riders. Click here to learn more about the horses and riding at GG.
Crafts: Express your creativity while learning new craft projects and constructing art.
Drama & Dance: Demonstrate your thespian and dancetalents in a GG production.
Pool: Play or sunbathe in camp's coolest spot.
Rifles (for Seniors): Good shots can earn marksman certificates. Seniors can specialize in riflery and climb the award charts!
Ropes Course: Tackle the ropes course and ride the zip line. There is a 40-foot climb wall for technical training as well as recreational fun. The ropes course boasts 20 lower, upper and group elements... and the giant swing is one crazy ride!
Sports: Demonstrate your sportsmanship and team spirit in softball, ultimate frisbee, dodgeball, volleyball, tetherball, basketball, kickball, soccer, lacrosse and other fun games.
Store: Hang out in "Lily's Pad", play pool, eat snacks, and use your store credit to purchase all sort of GG swag or replace that dried up deodorant or tooth paste.
W.I.L.D. (Wildness Inspired Leadership Development): Take a nature walk, explore camp and learn other outdoor skills.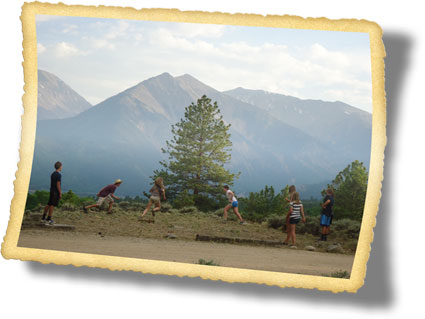 These areas are available mostly to senior campers, who are 12 years old or older. Seniors get to "create" their own schedule. In addition to the activities listed above, seniors can explore mountain peaks, rock climb and rappel, take horse overnights, learn "Roughin' it Easy" campcraft skills, minimum impact camping, animal tracking, pottery clinics, song writing, poetry workshops, swing dancing and many more! The program for seniors is dynamic and changes from year to year, depending on the talents and abilities our staff members bring to the camp each season.
Some of the elective opportunities for teens also include:
Live Music "Jam Sessions"
"Ballistics" – Rocket Building
Yoga, Meditation, Zumba
Video, Photography, and Movie Making
Leadership Seminars known as "Think Tanks" challenge teens to address issues of today
Cooking Clinics, World Cuisines
Out-of-camp trips and hikes
"GG Columbine" – camp newspaper edition for every session
"Teen Leadership" program provides teens experience in skills and running activity areas
Special Crafts or "Cre-8": knitting, crochet, jewlery making.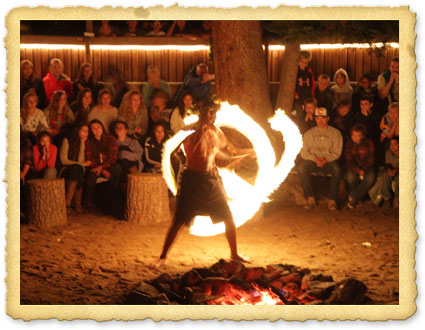 Fun planned activities are part of every evening at Geneva Glen. Twice each session we have council fire, a gathering of songs, skits, storytelling and more in which every camper takes part. Other evening activities include:
Airbands/Talent shows
Dances
Marshmallow roasts
Vespers services

Storybooks
Religions of the World
Hunger Awareness
Native American
Chivalry / Honor / Courage

Plays and musicals
Counselor hunts
Scavenger hunts
"Jurassic Park" (a Capture-the-Flag style Dinosaur hunting game)
Kangaroo court (call out your camper and counselor friends for funny "crimes")
Games of every imaginable type
Special theme related events; Pulling of the Sword, Coronation, Ladies Court & Induction (Knighthood); and an International Chautauqua -- a gathering of the nations(World Friendship).